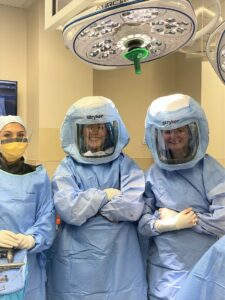 Interview with Dr. Casey Kuripla 
By Dave Agolli
In July of 2022, the first "Total Ankle Replacement" (TAR) surgery in the South Shore Health System was performed by our amazing team here at South Shore Orthopedics. Dr. Casey S. Kuripla, MD, was kind enough to answer some questions regarding this ankle surgery that future patients may find helpful and informative. When I met with Dr. Kuripla. The first thing I wanted to know was:
Can you tell us a little bit about the TAR performed at South Shore Orthopedics?
The patient was someone who had ankle pain for a very long time. They were not going to recover with anything less than an ankle replacement. She had reached the end stage of her arthritis in her ankle. We had been preparing for a long time for this. We had tried non-operative treatments before the TAR, so the hospital had been preparing for quite a while for this operation. The total ankle system is a very complex system and very different from the hip or knee replacements because there are many little pieces, and it's a long procedure. We had a couple of nurses involved in ensuring all of the equipment was on time on the day of surgery and that the staff knew how to use it. The scrub tech had multiple training sessions on the system as well as many others who also trained for it. It went really smoothly there were no issues at all.
Are there any common misconceptions about TAR?
When people think of a joint replacement, they often think they will be up and walking around immediately the same day or day after the surgery. This is not true with the TAR because it is a smaller joint. Patients must be more careful while the wound heals and must be non-weight bearing for 6 weeks. This means patients will have to do some planning for their recovery. The foot & ankle has thinner skin and not as much muscle and blood supply, so the recovery differs from that of a hip or knee replacement as well as the procedure. People may think it is similar, and that would be a misconception.
Who would be an ideal candidate for TAR?
Typically, someone who has ankle arthritis is really limiting their ability to be active. They may feel like they are becoming a bit of a couch potato because of their ankle pain. That would be someone who might need the procedure, so they remain active in their older age, usually over 60.
What is the best way a patient can prepare prior to surgery?
Make sure that your home is prepared for when you return from surgery. Also, make sure you have family or friends around that can help, and if you don't, a rehab facility is always an option. I prefer that patients have a steroid injection within three months prior to the procedure to prevent any infection, which goes for any total joint replacement. 
What does the recovery look like for TAR?
You will stay the night in the hospital, will be non-weight bearing, and in a splint for two weeks while the wounds heal. While you are non-weight bearing, you will use crutches or a knee scooter to get around for 6 weeks post-surgery.
To learn more about total ankle replacement or to schedule an appointment, please call 781-337-5555 or visit www.southshoreorthopedics.com today!