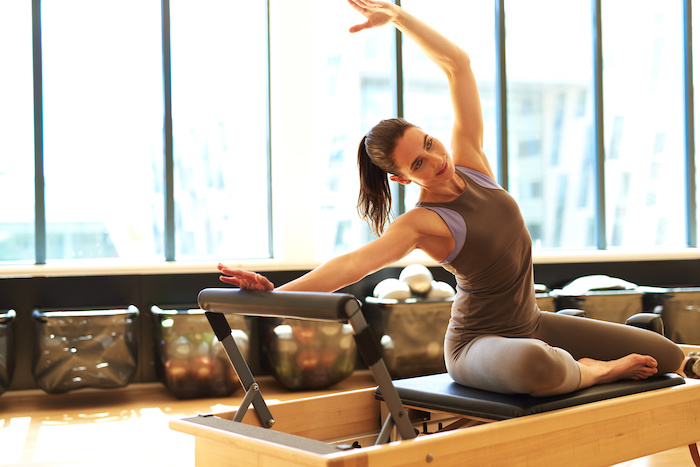 If you've had an injury or suffer from chronic joint pain, finding an exercise routine that works for you can be difficult. But, maintaining an active lifestyle is an important part of preventing a recurrent injury or further damage. Here are eight effective low-impact workouts to help keep you moving without compromising your bone and joint health.
1. Yoga
Yoga is a great way to drop pounds and build lean muscle. It can also help to reduce pain, improve your overall mood and support better sleep. There are several different types of yoga from Bikram or hot yoga to AcroYoga or Vinyasa, a more fluid, movement-intensive practice. Try out different types or different studios until you find the one you like best.
2. Kayaking, Canoeing and Rowing 
According to Frederick C. Hagerman, director of the Work Physiology Lab at Ohio University, rowing burns more calories than cycling or running for the same amount of physical effort. You may want to wait until the weather warms up to go kayak or canoeing, or look for a rowing machine at your gym. You might assume this is only an upper body workout, but rowing is actually one of the few low-impact exercises that work all the big muscle groups.
3. Swimming
When it comes to low-impact workouts, swimming takes the cake. The buoyancy of the water reduces stress on your joints and ligaments while also reducing the risk of overheating. Not only does swimming help improve muscle strength and flexibility, but also your lung function.
4. Cycling
If you love cardio cycling is a great alternative to running which can be really stressful on your joints. Most gyms offer group cycling classes, but there are also dedicated cycling studios. If you prefer to workout in the comfort of your own home, you can search YouTube to stream classes.
5. Hiking
Going for a walk is great, but if you want to kick things up a notch or are just looking for a change of scenery try taking a hike instead. For the sake of keeping things low-impact, start with low-grade terrain and make sure you wear proper footwear to help limit your risk of slips and falls. Nearby World's End has 4.5 miles of footpaths that are great for moderate hiking. Wompatuck State Park and Whitney and Thayer Woods are just short drives away.
6. Dancing
Dancing a great way to get moving and get your blood flowing. There are countless styles to choose from and you can easily change things up based on your mood. Take the ballroom class that's been on your bucket list or invite your friends to join you at a Zumba class.
7. Pilates
Pilates is one of the fastest growing forms of exercise in the world. Like yoga, it is both a physical and mental workout. It focuses on correct alignment, body control, breathing, fluid movements and concentration. Pilates helps build overall body strength, improve flexibility and create lean muscle tone.
8. TRX
TRX stands for total body resistance. These workouts utilize a strap suspension system that leverages gravity and your own body weight to help develop strength, balance, flexibility and core stability. You may see TRX bands at a pilates studio or your local gym, but since they are portable and small in size, they are also a great option for at-home exercise.
Before you start
Keep in mind that before you do any exercise after an injury, you should get the approval and recommendations from your treating physician or physical therapist. He or she can make recommendations for when you can resume exercise, as well as what types of exercise and how much are best.
Even if you aren't recovering from an injury or suffering from chronic joint pain, these low-impact workouts are a great way to prevent an injury from occurring in the first place. If your routine already includes high-intensity training, weight training or running or you participate in any kind of physical sport, you should regularly mix in low-impact workouts to create balance. These workouts are also great if you participate in any kind of sport whether either for leisure or competition.
Contact South Shore Orthopedics
Although low-impact workouts cause less stress on your joints, there is no way to 100 prevent experiencing an injury. Whether you've fractured a limb, got hurt at work or have any kind of persistent pain, South Shore Orthopedics can help. Our team of surgeons and associates provide comprehensive care in all areas of orthopedics to patients living in or near Hingham, Massachusetts. Call (781) 337-5555 to request an appointment today.