Hand Therapy
South Shore Orthopedics is now offering Occupational Hand Therapy at our satellite office, located at Compass Medical in East Bridgewater.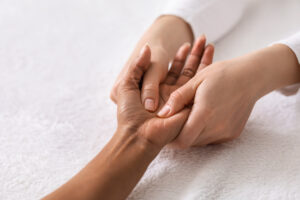 Occupational Therapy's Role in Upper Extremity Rehabilitation
Occupational therapists at South Shore Orthopedics use evidence-based techniques to help individuals return to their work and leisure activities after an injury, or when managing a condition of the hand or upper extremity. We address the whole person to understand how healing looks in the context of your life, for both acute and chronic conditions. By using techniques such as manual therapy, therapeutic modalities, massage, exercise, and activities that are relevant to your goals, we can aid you in your recovery. Occupational therapists often suggest techniques that help you conserve energy, reduce pain and improve function so you can participate in the activities that make you feel like you. Rehabilitation can include custom splinting if prescribed by your physician, which can protect or stabilize your upper extremity depending on your needs.
Why Hand Therapy?
Seeing an occupational therapist that specializes in rehabilitation of the hand, wrist and upper extremity is important so that you can optimize your recovery and independently participate in activities as soon as possible. Our occupational therapists tailor rehabilitation programs that empower you to return to activities that are unique to you. We share a goal of wanting you to return to your favorite hobby, important life skill or work task.
Areas of Specialty
Fractures of the hand, wrist and elbow
Tendonitis such as De Quervain's tenosynovitis, tennis and golfer's elbow
Nerve injuries & nerve compressions like carpal tunnel and cubital tunnel
Arthritis
Tendon injuries
Traumatic Injuries
Visit South Shore Orthopedics
If you are suffering from any of the conditions listed above, make an appointment at South Shore Orthopedics' satellite office today. Conveniently located in East Bridgewater, our team is here to help with all your hand therapy needs. Please call our main office to schedule an appointment at our satellite office.