Custom Hand Splinting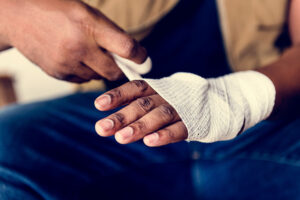 Splints are designed to support painful joints and weak muscles, reduce nerve compressions, and protect healing injuries. At South Shore Orthopedics, we offer custom splinting for patients who would like to reap the benefits of a custom made splint that is tailored to their particular needs.
We find that patients who take advantage of our custom splinting program are more likely to wear their custom splint than an over-the-counter splint because custom splints conform to the specific area of their hand or upper extremity such as the contour of their wrist that needs to be supported. In addition, patients who opt for a custom splint from us receive personalized instructions on how to wear and use it.
Custom Splints vs. Over-the-Counter Splints
Over-the-counter splints, which can be found at drugstores or online stores, are typically available in small, medium, and large. They are not created specifically to your hand and can be difficult to adjust. By investing in a custom splint that is made to fit you, you'll be more compliant and enjoy greater results.
How are Custom Splints Made?
Our custom splints are made by our team of occupational therapists/certified hand therapists after direct face-to-face communication with our hand surgeons. Our splints are made specifically with the anatomy of the patient and the purpose of the splint in mind. The splints are made to support the joints while they heal, to immobilize a joint, or to limit motion. A thermoplastic material is heated and molded to the patient's limb. The fabrication of a custom splint is often complex, requiring a prescription.
What Do Custom Splints Do?
There are a variety of ways custom splints can benefit you. Depending on your condition, a custom splint can:
Support weak muscles

Rest inflamed and sore tendons, nerves, muscles, ligaments, and joints to decrease pain

Minimize abnormal muscle tone

Position hands and wrists in a proper joint alignment in order to reduce the risk of deformity

Protect repaired and reconstructed structures following surgery

Assist in mobilizing troublesome scar tissue and stiff joints
Who Puts on a Custom Splint
A CHT (certified hand therapist) or OT who specializes in hand injuries are trained in the fabrication and fitting of custom splints, taking into consideration bony prominence or pressure areas and healing precautions.
Conditions Treated by Custom Splinting
South Shore Orthopedics is pleased to provide custom splints for a variety of hand and upper extremity injuries and conditions. Some of these injuries and conditions include:
Fractures of the wrist, elbow, and fingers

Nerve compressions such as carpal tunnel and cubital tunnel

Tendon injuries

Nerve injuries

Tendonitis such as tennis and golfer's elbow and de quervain's tenosynovitis

Arthritis
Paying for Custom Splinting
Custom splinting at South Shore Orthopaedics is affordable and typically covered by a variety of insurance carriers. If you decide custom splinting is right for you, we'll provide you with further details on pricing.
Interested in Custom Splinting?
If you believe that you could benefit from our custom splinting program, we encourage you to schedule an appointment at South Shore Orthopedics today. Our team will evaluate your condition and inform you whether you could benefit from a custom splint.