A joint replacement involves removing the abnormal lining and worn bone structures of the joint and replacing them with new parts. Most of the time, these new parts are comprised of special material including harden medals, refined plastics, and ceramics. They make it possible for the joint to move again with minimal or no pain. Common joints replaced include knees, hips, and shoulders. Other joints such as fingers, wrists, ankles, and elbows can also be replaced.
What is the Purpose of a Joint Replacement?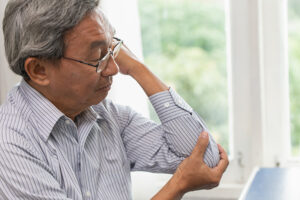 A joint replacement may be recommended by a surgeon to reduce or alleviate joint pain, restore or maintain joint function, and improve overall function and mobility. It is intended for individuals who cannot work, exercise, perform their daily activities, or sleep at night because of pain that stems from the joints.
What to Expect During a Joint Replacement
During a joint replacement, an orthopedic surgeon will remove a portion or all of your damaged joint while you are under general or regional/spinal anesthesia. Depending on the joint that is being replaced, your procedure may last two hours or less. Once the surgery is complete, you'll be transported to a recovery room until the anesthesia wears off.
Joint Replacement Recovery
The speed of recovery from a joint replacement varies from patient to patient and depends on many factors. Typically, patients can stand or begin walking the day of the surgery and experience temporary pain that can be reduced with medication.
Following a joint replacement surgery, you may be required to stay at the hospital for a few days. Physical therapy to regain range of motion helps the muscles around the new joint gain strength will likely begin the day of surgery.
Alternatives of Joint Replacement Surgery
Joint replacement surgery is not always necessary. In many cases, joint pain and arthritis can be treated through non-invasive measures such as anti-inflammatory medications, injections, protective splints or braces, and physical therapy exercises. Surgical alternatives to a joint replacement include surgery on the ligaments or tendons, arthrodesis surgery to fuse the bones together in small joints, or a resection arthroplasty which is designed to remove arthritic bones or surfaces.
Total Joint Replacement Education Classes
Total Joint Replacement Education Classes are held every Monday and Thursday morning from 8:00 A.M. until 10:00 A.M. and also the second Tuesday evening of each month from 5:30 P.M. until 7:30 P.M.  These classes are held at 2 Pond Park in Hingham on the 3rd floor in the conference room.  To register for the class please call 1-781-624-8593.
The goal of the Total Joint Replacement Education Class is to prepare patients for surgery and to assist patients and caregivers in understanding their role as an active participant in their recovery and rehabilitation.
Visit South Shore Orthopedics to Find Out If a Joint Replacement is Right For You
If you are coping with serious joint pain, a joint replacement may be right for your particular condition. It can help improve the quality of your life by easing pain, enhancing mobility, and allowing you to live a happier, more fulfilling life. Make an appointment at South Shore Orthopedics today to determine if joint replacement or an alternative treatment makes sense for you.