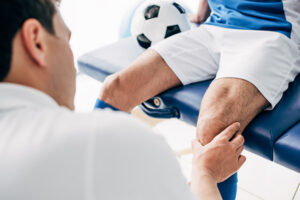 South Shore Orthopedics specializes in providing care and prevention for a variety of sports and activity-related injuries for children, teens, and adults. Our knowledgeable team of providers work together to diagnose and treat sport and activity-related injuries while counseling patients on the correct training and best practices that can significantly reduce their risk of injury.
Sports and Activity-Related Conditions and Injuries We Treat
South Shore Orthopedics has the resources and experience necessary to treat a plethora of sports and activity-related conditions such as:
Upper Extremities:
Shoulder Instability

Shoulder Impingement

Tennis Elbow

Golfer's Elbow

Frozen Shoulder

Tendinitis, overuse and bursitis 

Rotator Cuff Tears

Wrist Sprains and Strains
Lower Extremities:
Ankle Sprains and Strains

Tendinitis, overuse and bursitis

Patellar Tendon Tears 

Meniscus Injuries

Knee Ligament and Tendon Tears

Cartilage Tears

Anterior Knee Pain

PCL Injuries

ACL Injuries
When to Visit a Doctor
While some sports and activity-related injuries are minor, many are serious and require medical attention. Be sure to visit South Shore Orthopedics if you are unable to move or bear weight on the injured body part, are uncertain about how severe your injury is and how to care for it, experience red streaks or tenderness to the touch, or develop an injury to a body part that has been injured in the past.
Sports Medicine Treatments
The treatments we prescribe depend on your particular sports injury. Whenever possible, South Shore Orthopedics helps patients regain their strength and flexibility, as well as prevent future injuries, through conservative techniques which may include physical therapy, education, bracing, short-term medications, viscosupplementation injections, and cortisone injections.
In addition, our sports medicine specialists can advise you about preventing injury by designing a specialized program that can increase your performance in sports. With our injury prevention counseling, you can ensure a healthy, active, and successful future.
Contact South Shore Orthopedics Today
If you or a loved one is suffering from a sports injury, make an appointment at South Shore Orthopedics today. Our sports medicine physicians can design a treatment plan that will get you back to your sport in no time. We can also provide preventative treatments to ensure that you avoid sports and activity-related injuries in the future.