Durable Medical Equipment Store

DME (Durable medical equipment) includes walking boots, knee braces, splints, and crutches to name a few. At South Shore Orthopedics, we check each patient's medical insurance plan so that the patient is fully aware of any expenses they're responsible for, before receiving the product.
A provider may suggest that a patient use a specific medical device but that device may not be covered by the patient's insurance. In this case, the patient would have to go to a medical supply store to purchase this product at an out of pocket expense. Our goal at South Shore Orthopedics is to eliminate the step of going to the medical supply store to receive your product. We provide the product that you need in our very own cash and carry program. Think of this as a medical supply store within your medical office! Another benefit to purchasing your product at South Shore Orthopedics is that you have a Certified Athletic Trainer to custom fit your product to you, educate you on your device,  and answer any questions that you may have.
DME Products We Carry
Here is a brief overview of our product list:
Cold Knee Brace

Cold Shoulder Brace

Cast Cooler


Cast Covers (Full Arm, Half Arm, Full Leg, Half Leg)                                            

Pneumatic Armband

Pedi Sling

Walker

Cane

Crutches

Genuforce

Epiforce

Thigh High Compression

Knee High Compression

Patella Strap


Deluxe Tennis Elbow                                                                                                

TigerPaw (pair)                                                                      

Post OP Shoe                                                                           

Sully Brace                                                                               

Lumbosacral Support Back Brace                 
Click here to view a full list of our products and pricing.
Purpose of Durable Medical Equipment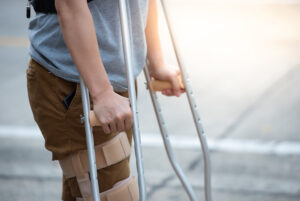 Each product we carry in our DME store serves its own unique purpose. Braces are typically used to properly align, position, support, and stabilize certain body parts. Walkers, canes, and crutches, however, are designed to aid in walking and to keep weight off of injured or weak legs while assisting with balance. Your physician will explain the purpose of any product they prescribe to you.
Custom Fittings from Certified Athletic Trainers
Once you purchase a product from us, you can expect to get fitted by one of our Certified Athletic Trainers who will educate you on how to get the most benefit from the product. Many tasks performed by a physician during an office visit can be done by a certified athletic trainer. The physician's office is a specialized setting within the athletic training field. Athletic trainers are, like many other healthcare professionals, considered "physician extenders." Physician extender is simply a descriptive generic term for a person who assists the physician.
Walk-in DME
Do you need a Medical Device but your medical office does not have the product? South Shore Orthopedics will take walk-in patients from other medical offices for DME products. All you need is a signed medical script from your doctor along with a demographics sheet. Check in at the front desk and a Certified Athletic Trainer will custom fit your DME device as well as answer any questions that you may have. Please feel free to contact us at 781-624-2932 with questions.
Insurance Coverage for DME
Depending upon your insurance provider and individual plan, your DME may be eligible for coverage. All of our DME is priced affordably in the event that insurance will not cover the necessary equipment. For information on pricing, view our pricing list.
Fortunately, Medicare Part B covers DME that your physician may prescribe for you to use at home. In order to qualify for Medicare coverage, DME must be:
Durable

Used for a medical condition or injury

Not useful to an individual who is not sick or injured

Used in your home

Able to last for at least 3 years
Visit Medicare.Gov for more details.
Return Policy
Since our products are custom fitted, they cannot be returned. More information on our DME policies can be found here.
Contact South Shore Orthopedics Today
If you'd like further details or would like to order a product from our DME store, contact us today at 781-702-3161. We look forward to providing you with the right product for your condition or injury.