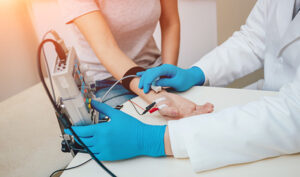 With the addition of Dr. Sandra Maguire to our team, South Shore Orthopedics is pleased to be able to provide our patients with diagnostic testing with electromyography.  Electromyography (EMG) is a diagnostic procedure that tests how well nerve cells called motor neurons are conducting the electrical signals that make your muscles contract. 
If your motor neurons are not conducting properly, then your muscle function may be impaired and you may experience symptoms like tingling, numbness, and pain. EMG is performed to find out if your symptoms are in fact caused by nerve damage. 
About Electromyography
EMGs measure the electrical signals the motor neurons transmit to the muscles and translate those signals into graphs or numbers. The results of an EMG are used to evaluate how well the neurons are functioning and can help your orthopedic doctor accurately diagnose nerve disorders like carpal tunnel, ulnar neuropathy, and other types of nerve compressions.
Why EMG is Done
Your orthopedic surgeon may order electromyography if you have signs or symptoms that may indicate nerve damage or muscle disorders. Some of these symptoms include:
Tingling

Numbness

Muscle weakness

Muscle pain or cramping
EMG results are often necessary to help diagnose or rule out a number of orthopedic conditions such as:
A pinched nerve in the neck

Nerve compression
What to Expect
EMGs are done only with a referral from a physician at South Shore Orthopedics. The procedure is done onsite in our clinic. 
No prior preparation is needed before the procedure and there is no recovery period. There are no after-effects either, so you can plan on getting back to your regular activities right after the test.
The test itself takes 30 – 45 minutes and can include two parts: the nerve conduction study and the needle EMG.
Nerve Conduction Study
A nerve conduction study uses sticky electrodes (surface electrodes) placed by a technician on the area you're experiencing symptoms. The electrodes stimulate the nerves through the skin. The electrodes can then send information on whether or not the nerve is conducting properly.
Needle EMG
During the needle EMG, a super-thin needle with an electrode on the tip is inserted by Dr. Maguire just under the skin in key muscles. A low-level stimulation or "shock" is administered to stimulate the nerve. The electrode on the needle measures the conduction of the nerves. A needle EMG may be slightly uncomfortable but should not cause pain.
During the test, Dr. Maguire or the tech may discuss some of what the EMG is showing, but the full results need to be shared with your referring physician before a diagnosis and treatment plan to be made.
Electromyography at South Shore Orthopedics
South Shore Orthopedics is fortunate to offer electromyography with the addition of Dr. Sandra Maguire to our practice. Dr. Maguire is board-certified in Electrodiagnostic Medicine by the American Board of Electrodiagnostic Medicine.  If you have symptoms of a muscular condition and believe you'd benefit from diagnostic testing with EMG, call our office at (781) 337-5555 to make an appointment