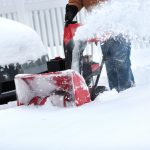 Winter is just around the corner. It's the most wonderful time of the year, but it is also one of the most dangerous thanks to the cold, snow, and ice. From sports injuries and car accidents to slips and falls and household mishaps, there's a wide variety of common winter injuries to be aware of.
We've put together this helpful list of winter safety do's and don'ts to help you make it to spring unscathed.
Do Wear Appropriate Clothing
Dress in layers to accommodate your body's changing temperature. Wearing several light and loose layers are best. If you plan to be outside, make sure you wear clothing that is water- and wind-resistant. Choose shoes that will not only keep your feet warm and dry, but that also offer sufficient ankle support and traction for walking on snow or ice.
Don't Overexert Yourself
Last year, more than 220,000 people were treated at hospitals, doctors' offices, and emergency rooms for injuries related to winter sports according to the U.S. Consumer Product Safety Commission. This figure includes snow skiing, snowboarding, ice skating, sledding and tobogganing. The most common winter sports injuries include sprains, dislocations, strains and fractures. Many of these injuries occur at the end of the day when people overexert themselves to squeeze in a few more minutes of fun. Listen to your body, stop when you're tired or in pain, and be aware of your surroundings. This also applies to snow removal, a common cause of back and spinal injuries during the winter months.
Don't Sled Head First
Injuries can happen in a matter of seconds, so it's important to keep a close eye on children especially when playing outdoors during the winter. When sledding or snow tubing, choose hills that are a safe distance from roads, trees and fences. A good sledding hill should not be too steep (ideally a slope of less than 30 degrees) and have a flat runoff at the end. Always use proper form–feet first and sitting up versus head first or lying down, and wear a helmet. In the United States, more than 20,000 emergency department visits each year are related to sledding accidents among children under age 19. Of these, an estimated 9% sustain traumatic brain injuries.
Do Keep First Aid Supplies
Icy conditions and reduced visibility increase the risk of vehicle accidents. A critical piece of winter safety is to always keep first aid supplies in your vehicle. This includes warm clothes and/or blankets to help you stay warm until help can arrive. For more about winter car care, including an emergency road kit supply list, check out this helpful checklist from the American Automobile Association (AAA).
Don't Slam On Your Brakes
If your vehicle starts sliding, don't slam on the brakes. Instead, focus on continuing to steer in the direction you want to go. If you have to brake and have an anti-lock braking system in your vehicle, avoid pumping the brakes. If ice on the road is possible, make sure you increase your following distance two to three time more than normal.
Do Check Your Equipment First
Make sure any and all equipment is working properly prior to use. This includes:
Sports gear (skates, skis, boards, etc.)

Personal protective gear (goggles, helmets, gloves, padding)

Household equipment (ladders for holiday decorations, snowblowers, generators)

Mobile vehicles (ATVs, snowmobiles, cars/trucks)
Many of these items are stored away during part of the year, so it's important to inspect them for wear, tear, and deterioration before you use them. Also, make sure you keep up with all necessary preventative maintenance.
Don't Use Your Hand to Unclog a Snowblower
Did you know that the most common snowblower injury is amputated fingertips? It's not always possible to prevent your snowblower from clogging, but you can educate yourself on how to properly remove it when one happens. Just as you shouldn't stick your hand into a garbage disposal, do not use your hand to unclog a snowblower. Instead, use a stick or broom handle. Here is a helpful graphic from the American Societ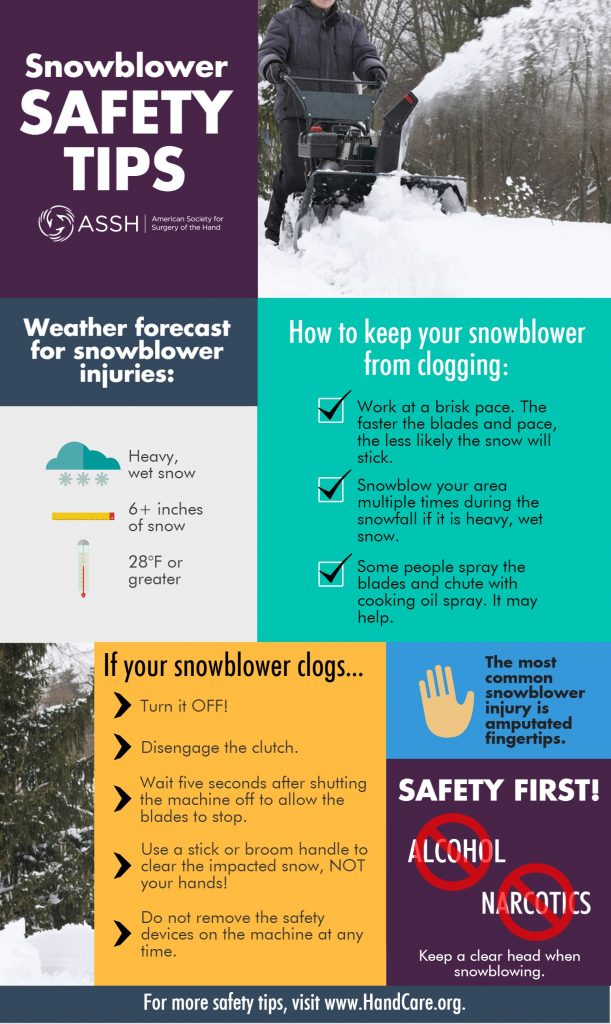 y for Surgery of the Hand:
Contact South Shore Orthopedics
We hope these dos and don'ts for winter safety were helpful, but we understand that injuries are not 100% are preventable. If they were, there would be no such thing as accidents. If you experience an injury, call South Shore Orthopedics at (781) 337-5555. Our board-certified orthopedic physicians specialize in the diagnosis and treatment of injuries and conditions affecting the bones, joints, ligaments, muscles, nerves and tendons.